"Tell me, please, do you repent of your crime?" Asked the woman with the black handkerchief on her head.
It is difficult to look at Kateryna Stepanivna Shelipova in court. Fragile dark-haired woman with swollen eyelids. For several days in a row, dozens of cameras of foreign and Ukrainian journalists have been targeting her, covering the first trial in Ukraine against Russian serviceman Vadim Shishimarin. On February 28, Shishimarin killed Kateryna Stepanovna's husband, Oleksandr Shelipov, a 62-year-old Sumy region resident.
"Yes, I admit my guilt," Shishimarin replied, barely stuttering. – "I understand that you will not be able to forgive me, but I apologize for what I did."
During the trial, Shishimarin repeated several times that he pleaded guilty in full, had no claims to the investigation, and had no comments. In general, Shishimarin agrees with everything. To stay alive. And that's a lot. Being alive during the war is a great luxury that Shishimarin himself did not give to Alexander Shelipov.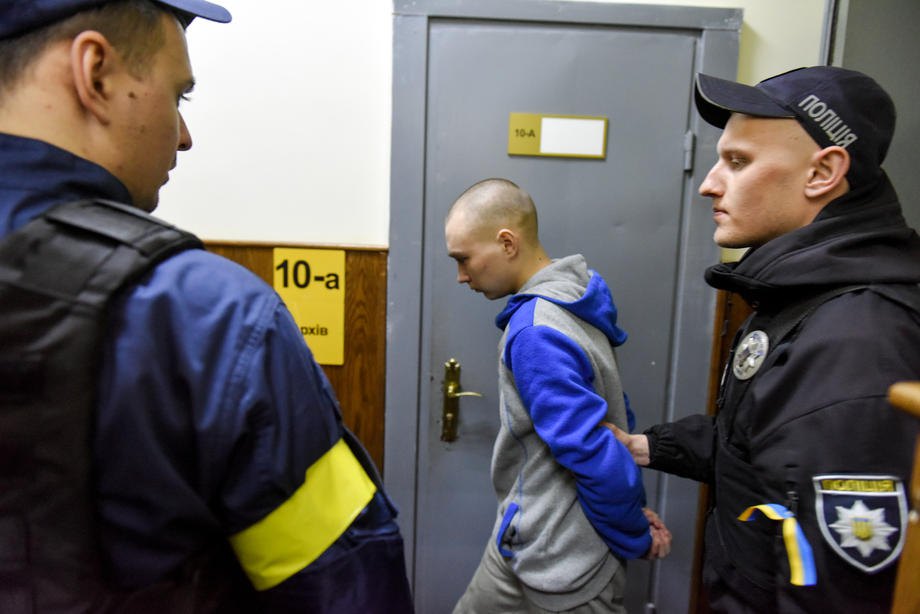 Russians in the Sumy region
"Ladies and gentlemen, please disperse so that the convoy can take the accused to the courtroom," shouts a court clerk, trying to squeeze through a narrow, dark corridor full of journalists. All cameras are aimed at a young short, short-haired guy in a gray-blue tracksuit. The convoy takes him to a glass box.
21-year-old Vadim Shishimarin is a Russian serviceman, a squad commander in the 4th Kantemirov Panzer Division of the Moscow Region. He lived in Ust-Ilimsk, Irkutsk region, with his mother. He has two younger sisters and two younger brothers. After school, Shishimarin was called up for military service, and then he signed a contract with the Russian army.
"I was thinking of serving my contract and moving on to civilian life," Shishimarin said during the trial. – "I lived in the barracks on provision, received a salary of about $ 550, wanted to help my mother."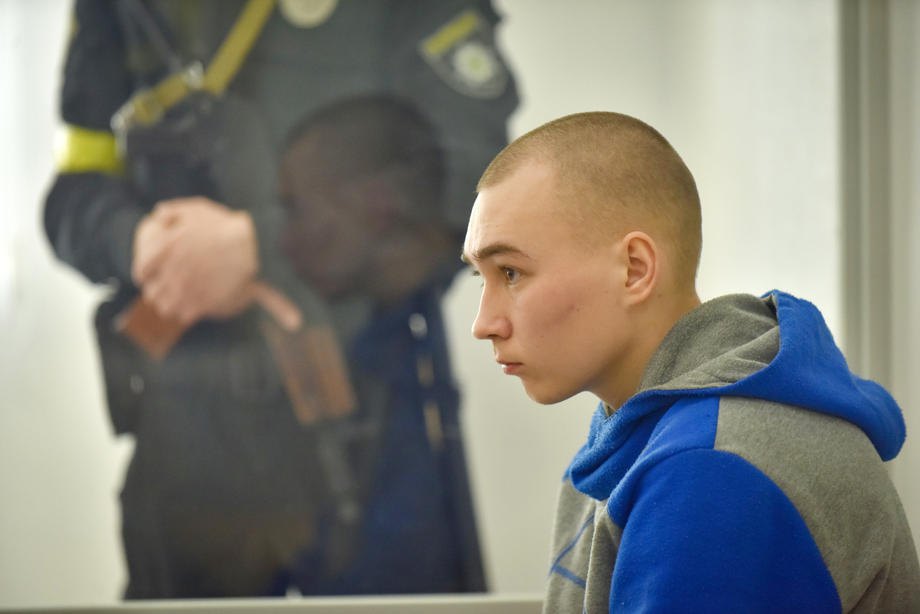 On February 24, he, along with other Russian servicemen, crossed the Ukrainian border into the Sumy region. After that, until February 26, they were repeatedly shelled by the Ukrainian military.
On the morning of February 28, a convoy consisting of two BTRs, a KAMAZ, two fuel trucks, and about 15 Russian servicemen moved toward the village of Chupakhivka in the Okhtyrka district of Sumy Region. As Shishimarin himself explained, they were going to the border to take the Russian wounded to Russia. However, Russian vehicles were smashed by Ukrainian troops near the village of Hrinchenkove. After that, the Russians were left without transport and divided into several groups. In addition to him, Shishimarin's group included four other servicemen: Private Ivan Matisov, Ensign Makeev, Senior Lieutenant Kalinin, and Kupakov (rank unknown).
The group first moved on foot, but then the occupiers saw a civilian car – a gray "Volkswagen". According to the prosecutor, another man was driving the car. The Russian military fired on the car, but the man managed to escape into the woods. The front left wheel of the car was punctured. Ensign Makeyev got behind the wheel, and Kupakov was next to him. Shishimarin was driving behind the driver's seat, next to him was Private Matisov, and Senior Lieutenant Kalinin was in the trunk.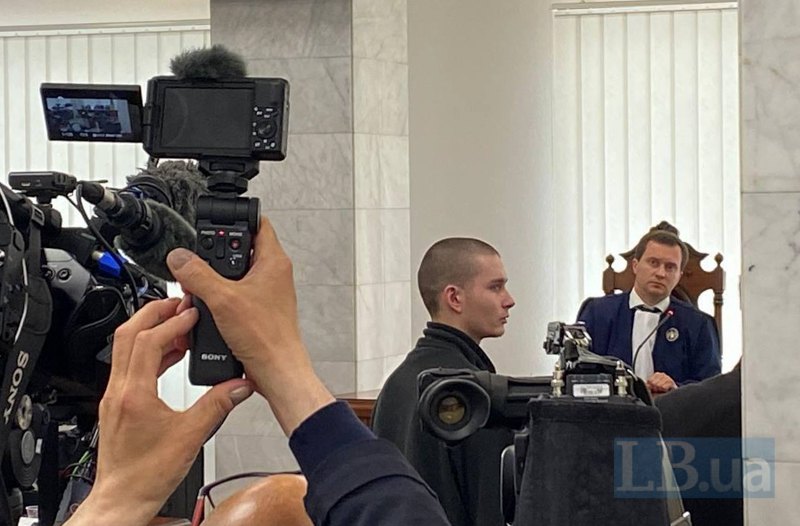 Shishimarin said Makeyev knew where other Russian servicemen were. They moved towards the village of Chupakhivka. There Makeyev noticed a civilian man riding a bicycle down the street. The man had neither uniforms nor weapons. It was Alexander Shelipov.
"Makeyev said that he (Shelipov. – Ed.) will rat us out, that he is calling the Ukrainian military," – said Shishimarin. – "He ordered to shoot. I didn't shoot. But then the one sitting to the right of the driver, I don't know him (Kupakov. – Ed.), turned around and began to order me in a threatening tone to shoot. He argued that we would not reach our troops, would not call for help, and we were in danger. I did not see that man (Shelipov. – Ed.) before we got near to him in the car. I fired in a short burst. Thus I killed."
"Tell me, please, what is your military rank?" Judge Serhiy Agafonov asked.
"Soldier"
"What position do you hold?"
"Squad Commander."
"What is the military rank of Makeyev, who gave the order?"
"Makeev is an ensign."
"Tell me, was Makeyev your immediate commander?"
"Mine – no. He was from another unit, but I knew he was an ensign."
"What document is a serviceman guided by in the first place during military service?"
"Military ticket."
"Is the serviceman guided by the military statute?"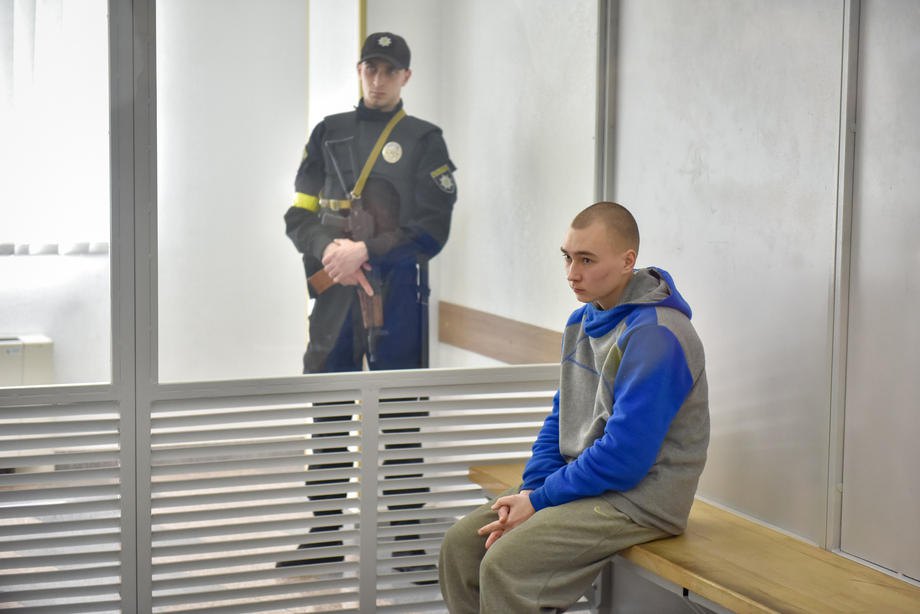 "Yes"
"According to the military statute, were you obliged to carry out the order of a person of higher rank who is not your commander and is not directly part of your unit?"
"Since there was no my commander, I listened to him."
"You listened to him, but are you obliged to follow his orders?"
"No"
"Was there any of your immediate commanders in this car you were riding in?"
"No"
"Is any serviceman obliged to carry out clearly criminal orders at all?"

"No"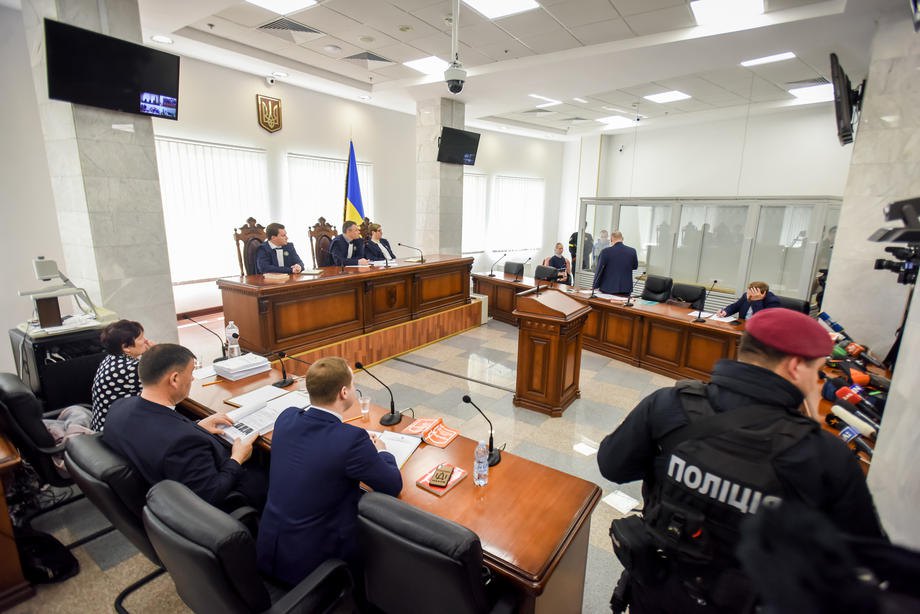 "Defendant, tell me, please, did I understand correctly that you carried out the order of a person unknown to you?" – Prosecutor Yaroslav Ushchapivsky asked.
"Yes."
"Have you seen him before?"
"No."
"What's his rank?"
"I do not know"
"Why did you carry out his order, but did not carry out Makeev's order before?"
"There was a stressful situation. He started…"
"Did he shout at you?"
"Yes."
Shishimarin's story was confirmed by another Russian soldier, Private Ivan Matisov, another 21-year-old short-haired man slightly taller than Shishimarin. Matisov was led to the courtroom by a separate convoy.
"Of those people who were in the car, did anyone say anything?" The prosecutor asked him.
"The senior lieutenant behind me ordered the weapons to be put on the fuses," Matisov replied.
"Why?"
"So that we didn't shoot at civilians anymore."
After Shishimarin shot Alexander Shelipov, the car drove on. As the car had a punctured wheel, the Russians took another car, a "VAZ-2109", from a local resident, threatening him with a weapon. Makeyev got into the trunk, and Kupakov was behind the wheel.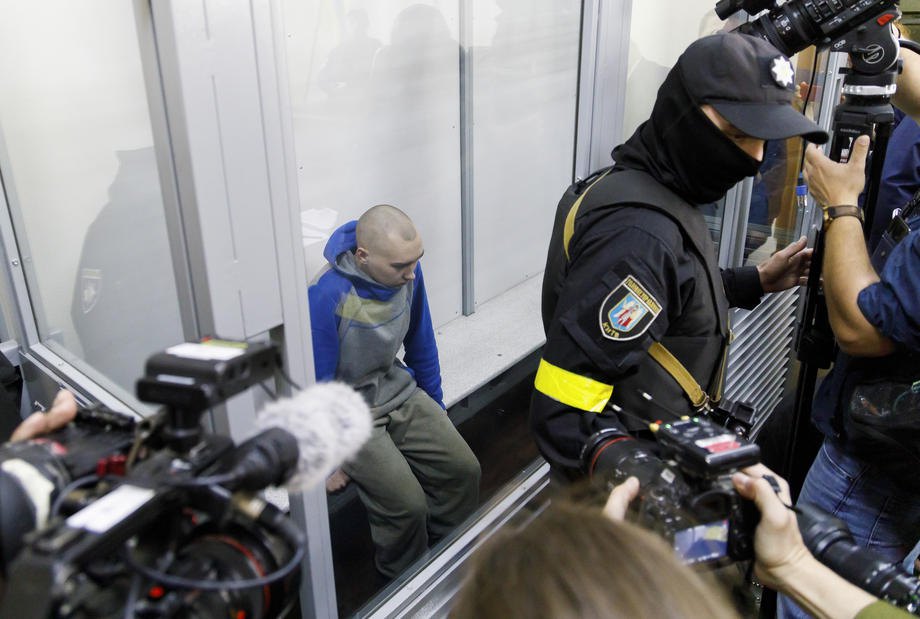 However, local hunters ambushed the Russian military in the village. The firefight began. The car with the Russians fell into a ditch, the driver died, the rest fled through the swamps to the village pig farm. According to Shishimarin, they discharged and hid there weapons. The Russian servicemen stayed at the pig farm until March 1, and then went to the forest.
They later went to a field near the village of Komyshi, where they met a local resident and surrendered.
"Tell me, please, why did you decide to surrender to the locals?" The prosecutor asked.
"I didn't want to fight," Shishimarin replied. – "That is, when we went to our troops, I did not see the point of going there. I decided to surrender, hoping that we would survive."
Widow
"Tell me, please, why did you come to us, to our land?" – Kateryna Stepanivna looks at Shishimarin, who is standing in a glass box.
"Our command ordered us only to move as part of the column," Shishimarin replied. – "And what will happen next, I did not know. That is, I did not know about the hostilities."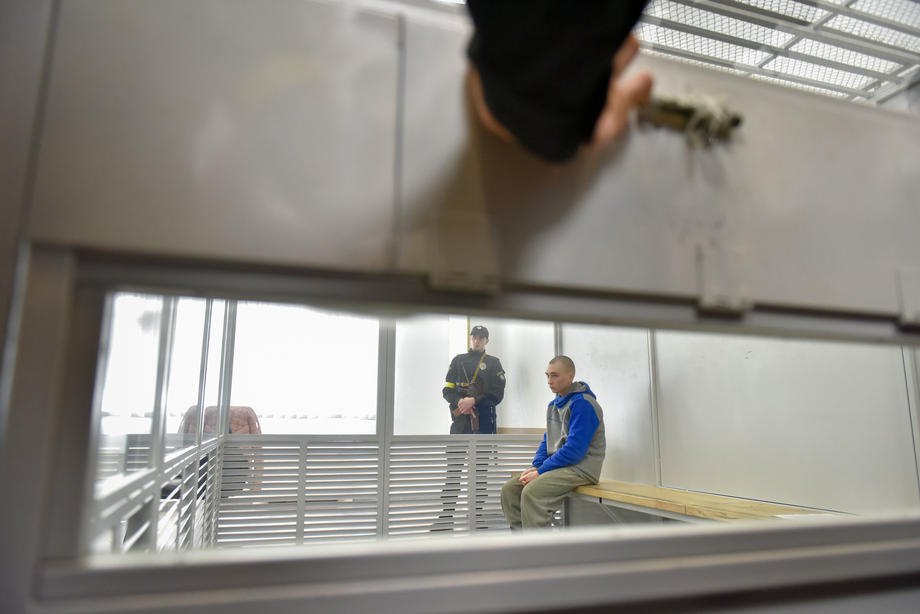 On February 28, Kateryna Stepanivna was at home with her husband Oleksandr. Okhtyrka was already being fired at by missiles by the Russian military. The village of Chupakhivka, where the Shelipovs lived, also got its share – bombs were dropped on a pig farm, forestry, sawmill. Kateryna Stepanivna says that on the night of February 28, Russian tanks drove through the village. At first they sat with her husband in the cellar. When they left, neighbors said that a Russian tank and car had been blown up.
"So you heard that something exploded in the village and your husband decided to go and see?" – the lawyer of protection Victor Ovsyannikov specified.
"Yes, he wanted to look at the funnel," said Kateryna Stepanovna. – "I told him not to go. But he said everyone was watching and he would go and see. He took the bicycle. At that moment, a friend called him, and I think that's why he was killed because he was talking on the phone. Local authorities clarified how to behave with the phones later."
Soon after Oleksandr left the yard, Kateryna Stepanovna heard gunshots. She called her husband. She approached the gate, opened it and saw Shishimarin with a weapon and a red bandage on his sleeve, who was riding in a car. Kateryna Stepanovna immediately hid in the yard. And when the car drove away, she came out. Her husband was lying on the street between two plums. Next to him were his phone and bicycle.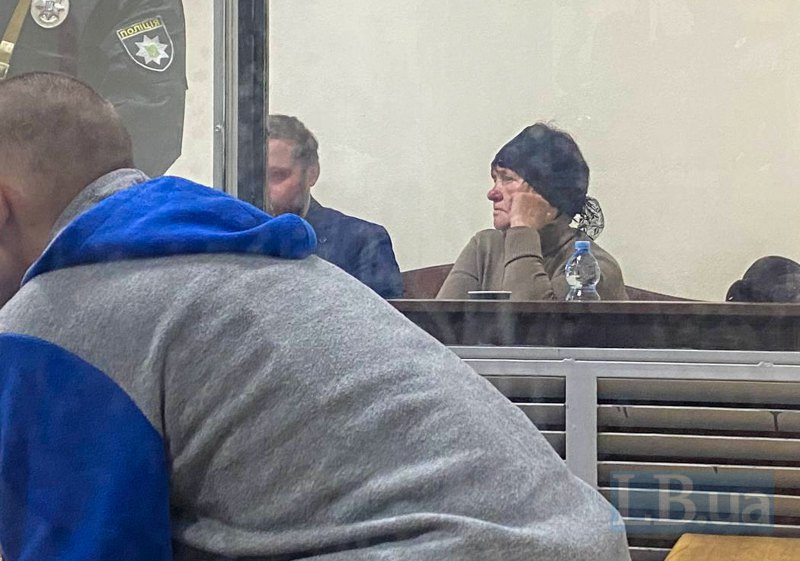 "We heard a neighbor's cry," said Igor Deikun, a prosecution witness and Shelipov's neighbor. – "She cried and shouted. She showed that her husband's body was on the left side of the road. He was lying on his back with his arms outstretched, his phone in his left hand. I saw a head injury."
Oleksandr Shelipov died of a gunshot wound to the head. In the village of Chupakhivka he worked as a tractor driver for thirty years. He and Kateryna Stepanivna had two children, but his daughter died in the early 2000s. A son and two grandchildren live now.
"Did he have a weapon?" The prosecutor asked.
"He didn't," Kateryna Stepanivna replied.
"He was wearing a military uniform?"
"He was wearing a blue jacket and a rooster hat."
"Kateryna Stepanivna, tell me, what does the loss of your husband mean to you?"
"Loss of my husband…" – the woman pauses and exhales. "Oh, that's all for me. He was my defender. Such a man that all his neighbors respected him."
"What do you think of a punishment for the accused?"
"I think he must be sentenced to life imprisonment. But if he is changed for our Mariupol heroes from Azovstal, I will support this."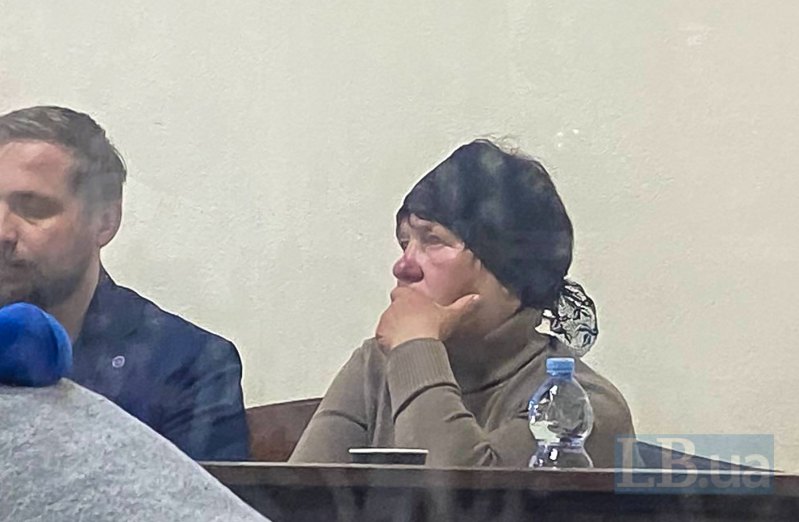 The last word
"Did you know that Ukraine is an independent country? What did you know about Ukraine?" – Judge Sergey Agafonov asks Shishimarin.
"I wasn't interested in that," Shishimarin replies calmly.
"When you crossed the border, did you understand that you were invading Ukraine?"
"Yes."
"When you shot, did you understand that the victim was a civilian?"
"Yes."
"Could you have acted differently? Could you just scare him?"
"Yes, I could."
"What is your attitude to what you have done?"
"I consider it unacceptable. The death penalty. I do not deny my guilt."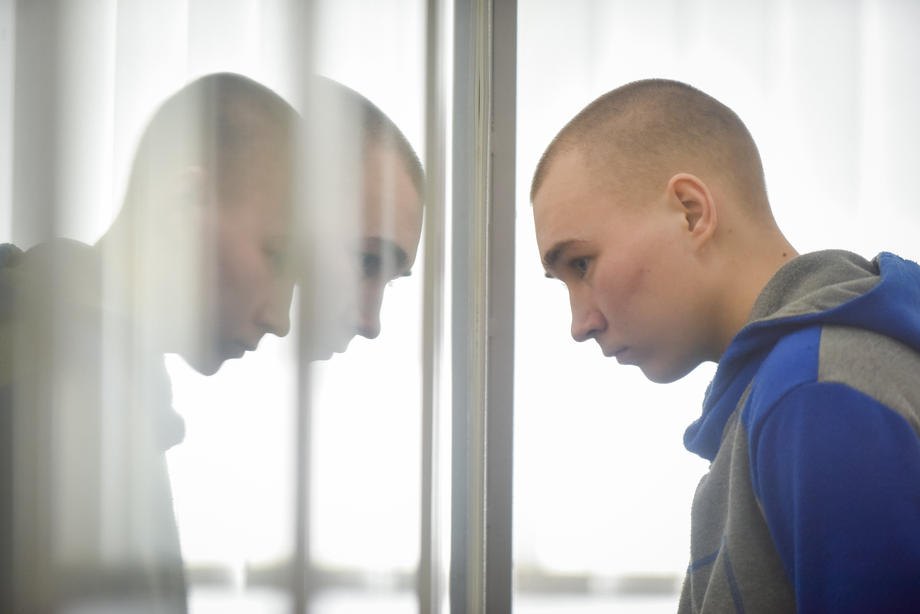 Vadim Shishimarin is on trial for violating the laws and customs of war, combined with premeditated murder (Part 2 of Article 438 of the Criminal Code of Ukraine). In addition to Shishimarin and Ivan Matisov, who also testified in court, three other Russian servicemen were in the car at the time of Alexander Shelipov's assassination. One was killed and two others were sent to Russia in early April as part of a prisoner of war exchange.
In addition to the testimony of witnesses, prosecutors provided the results of Shishimarin's psychological examination, identification protocols of the accused, as well as physical evidence: Alexander Shelipov's phone, Shishimarin's weapon with the appropriate license plate and assault rifles of his colleagues. In total, the trial lasted four days and has every chance to go down in the history of Ukrainian justice as the fastest trial in many years.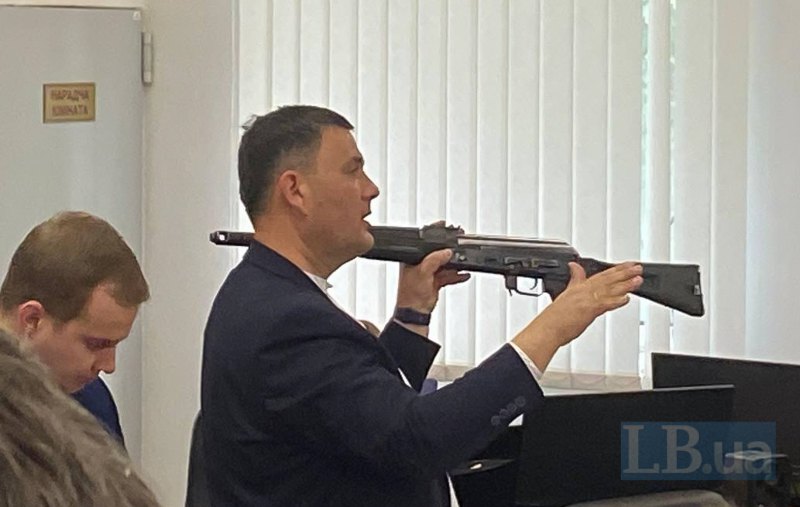 "Today, a full-scale war is raging between Ukraine and Russia, during which not only the military but also civilians are dying. Despite the resonance of the case, I believe that all the evidence in the case must be carefully studied in order to make a fair decision," – said during the debate, defense lawyer Viktor Ovsyannikov. – "It has already been clearly established that Shelipov did not pose a threat to the military of the Russian Federation. But I also ask you to take into account the circumstances. Shishimarin came under pressure from people he considered senior in the situation."
"Ensign Makeyev was the first to see the victim and ordered to shoot at a civilian. Shishimarin refused to obey him, and Kupakov gave the order again, pressing on him. Therefore I want to ask the following rhetorical questions," – Ovsyannikov continued. – "Is it possible to make a aimed shot in such a situation? If Shishimarin did fire, did he intend to kill Shelipov? How do you hit only one bullet with three or four shots? Is it possible to make a targeted shot to the head in these conditions? […]"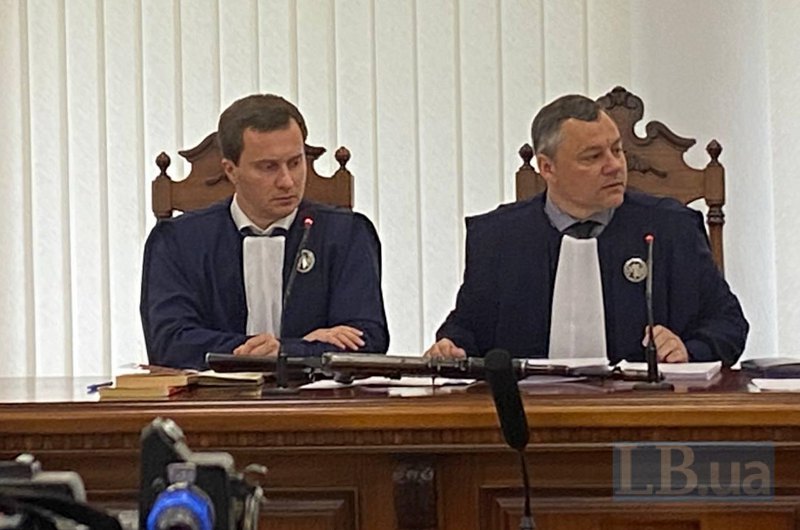 The lawyer quoted the case file, the statute of the Russian army, and then added:
"All Shishimarin's actions show that he only intended to save his life, and he felt threatened not only by the Armed Forces of Ukraine, but also by Ensigns Makeyev and Kupakov, who were sitting next to him. Lieutenant Kalinin actually withdrew from command. We were not able to interrogate the people who gave the orders directly during the trial. I especially think that Kalinin, Makeyev and Kupakov should be on the dock if he had not died. Or maybe another high-ranking leadership. Not this guy. "
"Even in the requirements of the statute quoted by Mr. Defender, there are no norms according to which Russian servicemen must carry out criminal orders," the prosecutor retorted. "Could Shishimarin just get out of the car and take the phone from Shelipov? He could. Could he have fired a single formal shot and not killed the victim? He could too."
After a debate between prosecutors and a lawyer, the judge gave Vadim Shishimarin one last word. But he did not say anything new.
"I would like to apologize again for what I did," Shishimarin repeated. – "I do not refuse it and I am ready to suffer punishment and I am ready to accept all consequences."
The court will sentence Vadim Shishimarin on May 23 at 12 o'clock.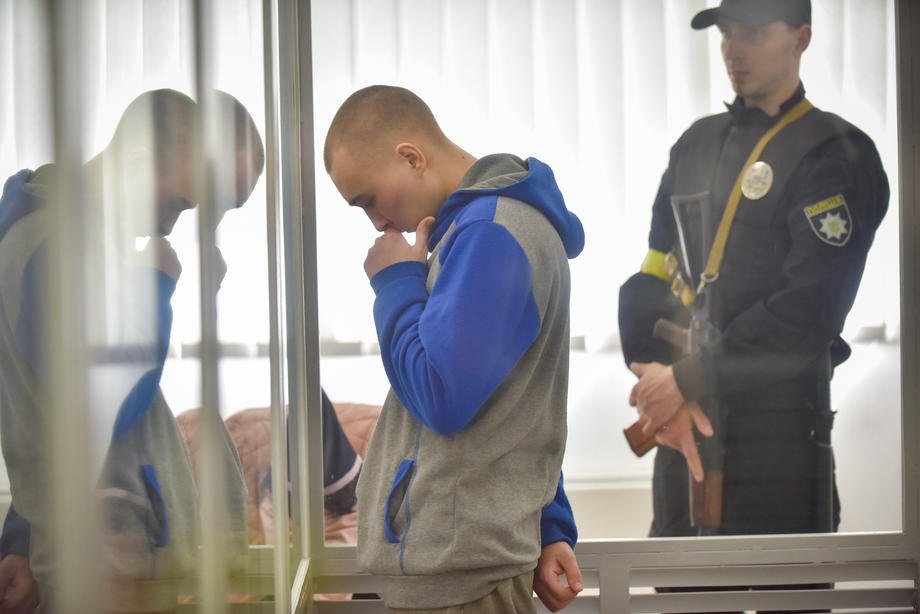 Source: https://lb.ua/society/2022/05/20/517427_pershiy_yak_sudyat_rosiyskogo.html
Translation: https://russiavsworld.org/first-to-go-a-russian-soldier-is-on-trial-for-killing-a-civilian/