The Russian invaders have attacked a railway station in Kramatorsk with an Iskander ballistic missiles, killing dozens of people. More then 100 is injured.
Source: Pavlo Kyrylenko, head of the Donetsk Regional Military Administration, on Telegram
According to Kyrylenko: "The Russian fascists have hit the railway station in Kramatorsk with Iskander cluster munitions. Police and rescuers working at the scene are reporting dozens of dead and injured".
Thousands of people were at the train station at the time of the missile strike, Kyrylenko said, as Donbas residents were being evacuated to safer areas of Ukraine.
The head of the Regional Military Administration stressed that the Russian forces "knew very well where they were aiming and what they wanted: they wanted to spread panic and fear, they wanted to take as many civilians as possible hostages".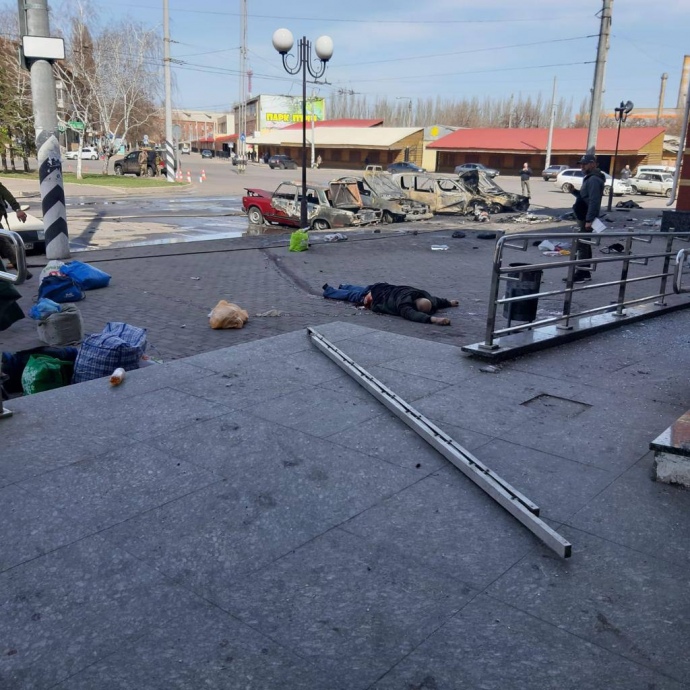 According to Ukrainian Railways, 2 missiles hit Kramatorsk train station. More than 30 people died and more than 100 people were wounded.
At least 4 children were killed.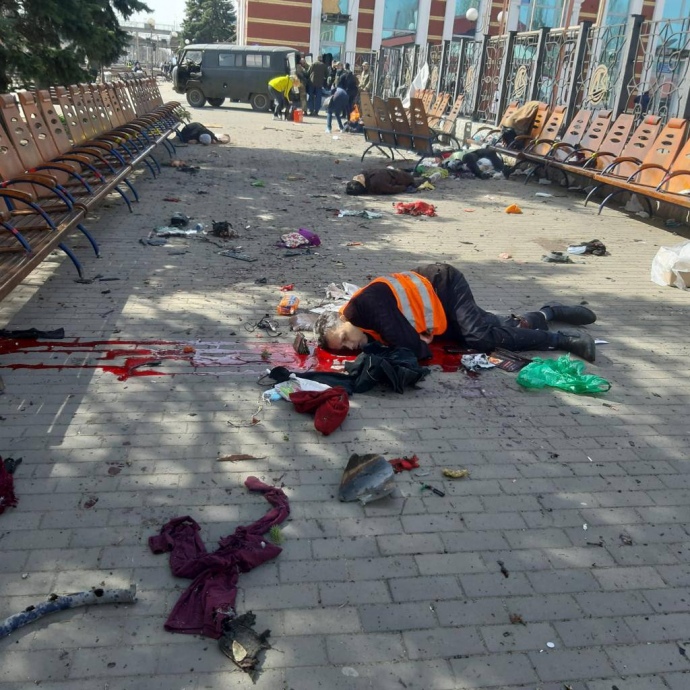 Like with MH-17, the most damning evidence of this war crime comes from pro-Russian sources before they knew what they filmed, tells Ukrainian journalist Denys Kazanskyi. Russians again, as it was the same with Boeing in 2014, boasted about killing on social networks. Before that, pro-Russian journalists filmed a Tochka missile launch today from occupied Shakhtarsk that was apparently heading towards Kramatorsk.
After horrific strike, the Russian state media says Ukrainian armed forces attacked Kramatorsk with a ballistic missile. But previously Russian propagandist Dmitriy Steshin share information from the prorussian telegram-channel, where Russian army claimed their missile striked "military personnel" in Kramatorsk.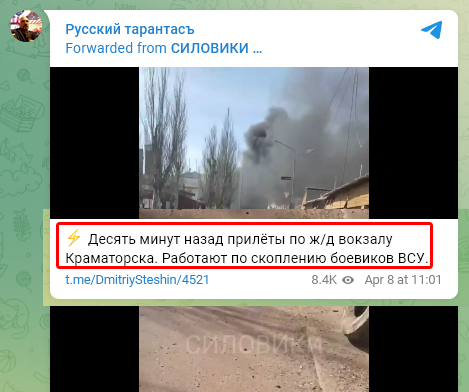 The re-post was made by Russian propagandist Steshin. As soon as it became known that the cluster munition fell not on the Armed Forces of Ukraine, but on civilians, the posts were erased or corrected.
"Deputy Minister of Information of the DPR Daniil Bezsonov" also made this re-post. Then he got scared and deleted it. And he began, as if nothing had happened, to write that it was "Ukrainians fired at themselves."19 хв.
Currently, after such an apparent war crime, the Russians lie that they do not have Tochka-U missile systems. Contrary to this statement there are tens of video and photo proofs that exactly these missiles have been used from Belarus and the occupied Donbass to strike Ukraine since the beginning of the war